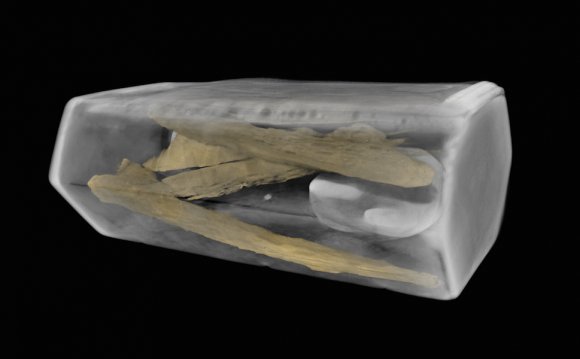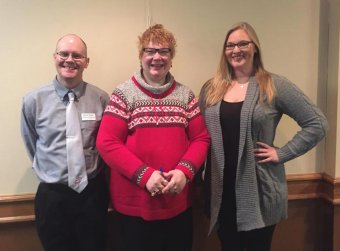 Alexandria cremer | THE SUN Dave Klein, executive director for the Stutsman County Housing Authority, Pam Phillips, center, chairperson of the local and regional issues committee for the Jamestown Area Chamber of Commerce, and Emily Wright, founder of Grand Forks Community Land Trust, pose for a photo after two housing-related meetings in Jamestown Tuesday where Wright served as a guest.
News Jamestown, North Dakota 58401
Alexandria Cremer
Jamestown Sun
Jamestown North Dakota 121 3rd St NW 58401
Jamestown lacks available starter homes on the market, according to Dave Klein, Stutsman County Housing Authority executive director.
Emily Wright began addressing a similar issue in Grand Forks six years ago. That's why he asked her to attend a couple of housing-related meetings in Jamestown on Tuesday.
"The reality is that we just don't have starter homes, " Wright said, referring to the Grand Forks housing market.
Wright attended the South Central Homeless Coalition meeting and the Jamestown Local and Regional Issues Committee's special meeting.
Wright founded the Grand Forks Land Trust organization in 2010 after she was disheartened to learn that potential beneficial community members wouldn't be staying or coming to Grand Forks because they couldn't afford to live in the community.
Her organization offers dual-ownership housing, where a purchasing party would purchase the structure of a home and the land trust would retain the land, saving the purchaser costs. Purchasers are responsible for taxes and insurance on the homes.
The committees hosted Wright to begin the conversation about possibly echoing such efforts regionally.
Wright said housing and utility bills shouldn't cost more than 30 percent of your income. Anything over 30 percent is considered "rent burdened, " meaning you would be financially burdened so much by costs of rent and utilities you wouldn't be able to make other bills, or afford sudden financial crises that could surface.
The land trust also uses federal grants to provide subsidies to buyers to create an affordable mortgage. Once the homeowners are ready to sell the home, homeowners get back what they initially paid for the home, plus 40 percent appreciation, and the land trust pockets the rest for administration costs and to maintain low-cost homes, Wright said.
Starter homes in North Dakota are generally in the $130, 00 to $230, 000 price range, Wright said.
Today, there are 73 houses on the market in Jamestown, and the average price for a home is about $245, 000, Klein said.
Although Realtors.com says the average price for a home in Jamestown is $165, 000, Klein said his numbers come from Reuben Leichty Realtors, a local Realtors website, and are similar to Wright's data from the Grand Forks housing market.
"The majority of our homes are between $230, 000 to $500, 000, " she said.
Klein was hopeful about the idea of a local land trust.
"More and more developments are being done where you're not the landowner, " Klein said. "It's becoming more of a process that's happening."
Wright agreed with Klein, saying there are land trusts in 46 states and 260 land trusts nationwide.
Wright said the land trust homes cater to millennials who could be looking for their first homes. The houses are smaller homes with nicer finishes, including newer appliances, something Wright said millennials look for when home shopping.
Becky Thatcher-Keller, executive director for the Jamestown Area Chamber of Commerce, asked Wright if the county or region could move forward with creating a land trust if the county or city wasn't interested in such an effort.
"You can do a community land trust at any level, " Wright said. "... We absolutely could have, if we wanted to, a statewide CLT, so then, any size smaller than that is an option as well."
Currently, there have been nine community land trust homes built in Grand Forks, with four currently on the market. Wright says she would be happy with 25 to 30 land trusts in Grand Forks.
"I love the idea of doing it in small communities, " Wright said. "I think that's an area where North Dakota could really lead the way that other states haven't necessarily done a whole lot of before, so I would love to see that."
Share this Post